BCF's patented TRF Technology for Total Recovery Facilities | Green Renewable Energy | 100% ZERO Waste
Bio Carbon Fuels is the exclusive world-wide licensee of the core patented technology producing engineered solid fuel from carbon-based feedstocks : MSW, wood waste, agricultural waste and so on. Our technology heats, shreds, mixes and compresses municipal solid waste (MSW) into high energy engineered fuel, with the following properties:
2-5% moisture

9,000-12,000 Btu per pound (comparable to coal)

100% sterile and waterproof

Zero dust – No odor

Easily converted into renewable gas, fuel or electricity
All waste emerges from BCF's carbon generation machine as solid engineered fuel in just over 60 minutes.  The machine's specially designed high-tension steel blades mix, shred, grind and masticate the waste. It is then extruded using high heat and pressure and granulated for ease of storage, transportation and optimal thermal conversion.
Our technology has been validated by major engineering firms Technip FMC, AECOM and WorleyParsons
TRF Functional Schematic | Five Line Configuration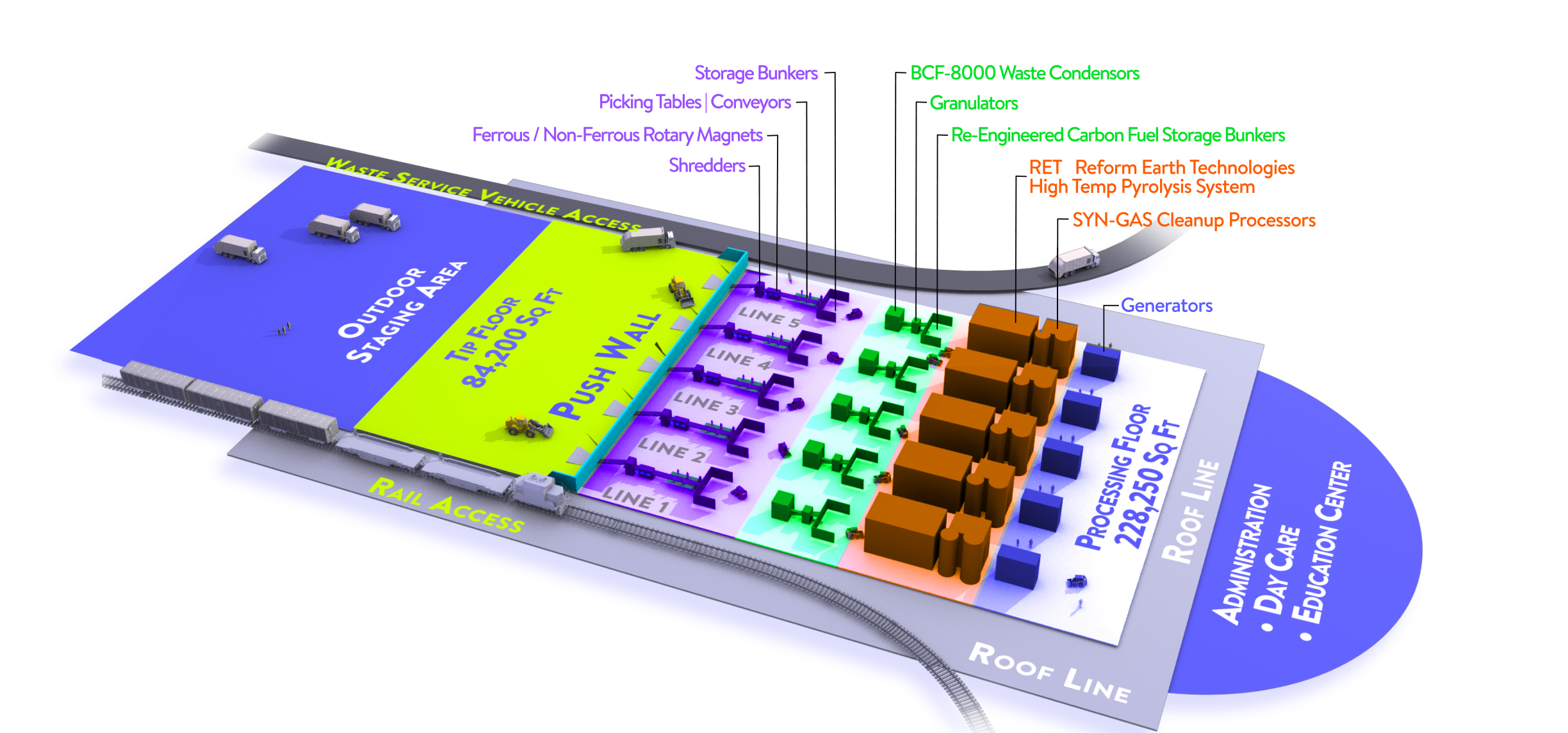 STEVE RACOOSIN
CEO | Founder/Inventor
47 years in the waste industry
Inventor of the BCF technology
Former CEO of Bio Gold Fuels and World Waste Technologies, Inc., which he took public via IPO
Developed several waste conversion facilities in California.
Managed and constructed multiple landfills and transfer stations in California for R.E. Wolfe and Republic Services, among others.
Built and managed multiple material recovery facilities, including one of the largest in the world (6,000TPD) in Anaheim, California.
MATTHEW E. ROSS
COO | General Counsel
20+ years' experience as a lawyer/businessman specializing in renewable energy project development and finance, with a focus in bioenergy projects
Has worked on over 150 energy projects over the past 20 years (including dozens of biogas, biomass, waste-to-energy and biofuels projects)
Taught seminal energy class at Georgetown University
Speaks nationally and writes on renewable energy and climate issues
LEED accreditation
Deep contacts across all spheres of the renewable energy space, especially bioenergy, including finance, technology, engineering and other top professional services purveyors
Control of significant portfolio of energy projects ready to be developed and financed